The North Dakota Bankruptcy Court upgraded to the Next Generation (NextGen) of CM/ECF on June 22, 2020.
For more information on NextGen including instructions for linking accounts, go to our NextGen information page.
---
Administrative Order and Information on Court Operations During COVID-19
Administrative Order of Judge Hastings - Updated June 4, 2020.
Customers are encouraged to contact the Clerk's Office by phone for assistance. Most inquiries and requests for documents can be handled over the phone, and copies and certifications mailed or emailed to the requestor.
Forms and instructions for filing are available on the court's website.
Debtors are encouraged to file documents and make installment payments by mail.
Creditors are encouraged to file proofs of claim, amended claims, and withdrawals of claims online using ePOC.
How to Connect to North Dakota Bankruptcy Court Video Conference (Draft Instructions)
---
U.S. Trustee Program Extends Telephonic or Video Section 341 Meetings to Cases Filed Through October 10, 2020 (updated June 12, 2020)
The U.S. Trustee Program is extending the requirement that section 341 meetings be conducted by telephone or video appearance to all cases filed through October 10, 2020. However, if the responsible U.S. Trustee or case trustee determines that an in-person examination of the debtor is required to ensure the completeness of the meeting or protection of estate property, the U.S. Trustee may approve the continuation of the section 341 meeting to an in-person meeting in a manner that complies with local public health guidance.
---
BANKRUPTCY PROVISIONS IN CARES ACT
This Act includes the following revisions to the Bankruptcy Code:
Amends the Small Business Reorganization Act (SBRA) to increase the eligibility threshold for a debtor to file under subchapter V (of Chapter 11) to businesses with aggregate debt of no more than $7,500,000;

Amends the definition of income under Chapters 7 and 13 to exclude coronavirus-related payments from the federal government as "income";

Clarifies that the calculation of disposable income for confirming a chapter 13 plan does not include coronavirus-related payments;

Allows Chapter 13 debtors to modify plan, after notice and hearing, if they are experiencing a "material financial hardship" due to the coronavirus pandemic. Chapter 13 debtors may modify plan to extend plan for up to seven years after their initial plan payment was due.
These provisions are scheduled to sunset one year after enactment.
---
Notice to Public Access Terminal Users:
If you need assistance with accessing court documents and are not able to use PACER.gov or you cannot afford to pay for using PACER.gov,please call 701-297-7109 for assistance.
---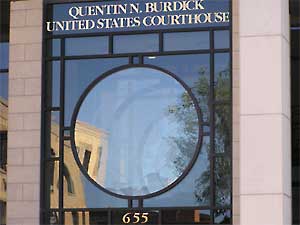 Court Location
Bankruptcy Clerk's Office
Quentin N. Burdick United States Courthouse
655 1st Ave North, Suite 210
Fargo, ND 58102
701-297-7100
Hours M - F
8:00 am - 4:30 pm
Other Resources
Vanity Shop of Grand Forks, d/b/a Vanity; Case No. 17-30112
Kurtzman Carson Consultants, LLC (KCC) is the court approved claims, noticing and balloting agent for this case.  All proofs of claim should be filed with the claims agent, KCC and not with the court.  See http://www.kccllc.net/vanity
News & Announcements
Check out PACER's newly redesigned, informational and resource webs More »